Once again, Thanksgiving is upon us in Canada. Can you believe it? It seems like only yesterday that we were all gathered around the table for a meal with our loved ones, taking the little ones to a parade or watching the Thanksgiving Day Classic on TV. So, what's different this year?
The answer is up to you. But if you're wondering how to do something that stands out, Minute Rice® has got you covered. How exactly? By sharing with you some of our favourite Thanksgiving recipes that favour the simple and original over the typical and traditional.
Read on as we delve into some easy to make Thanksgiving meal ideas.
Breakfast and Brunch
The joys of Thanksgiving don't always have to start at dinner time. Why not treat the day as special from the get go? You can do so by putting together a hearty and flavourful 20 MInute Southwest Breakfast Bowl. With beans, rice, eggs, avocado and tortilla chips, you'll be surprised by how this rich dish is so easy to make.
Alternatively, you can start the day in sweet style with a 30 Minute Speedy Rice Pudding. Once you've experienced the flavours of vanilla and cinnamon together at the kitchen table in the morning, it's incredibly difficult to switch back to toast or cereal!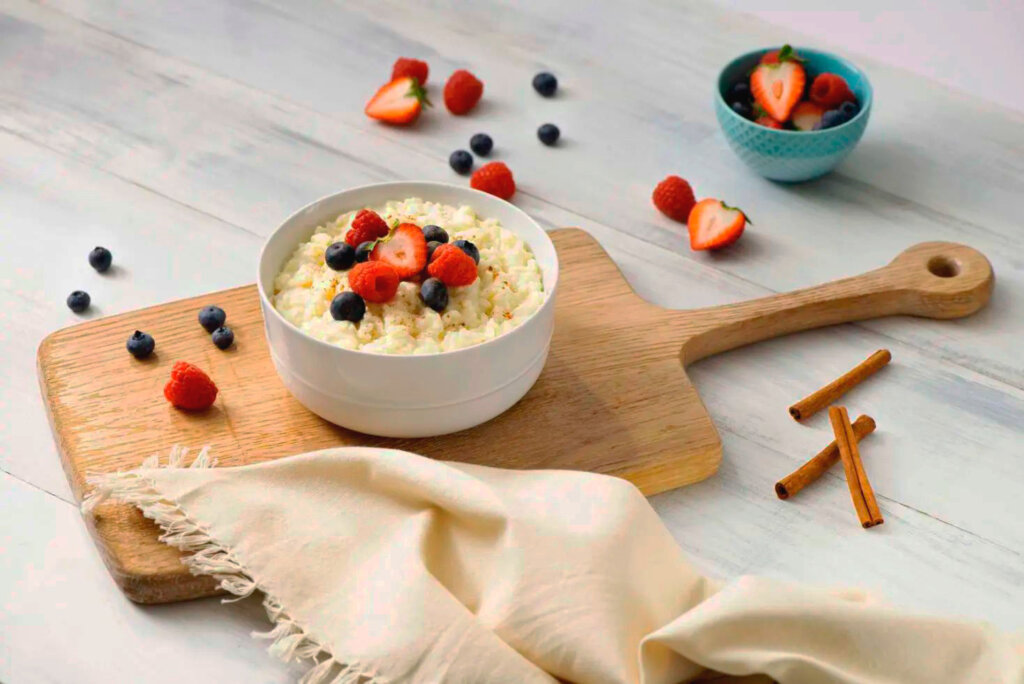 Recipe for a Thanksgiving Salad
For a balanced meal, some green ingredients, and something to keep the hungriest at the table satisfied, you may want to consider a Thanksgiving salad that can be served as a starter to share.

For that, an ideal option is this Wild Rice Butternut Squash and Kale Salad made with Minute Rice® Ready to Serve Long Grain and Wild Chicken Cups. Aside from being a flavourful dish that makes the most of seasonal ingredients, sweetened up by maple syrup, it's also quick and easy to make!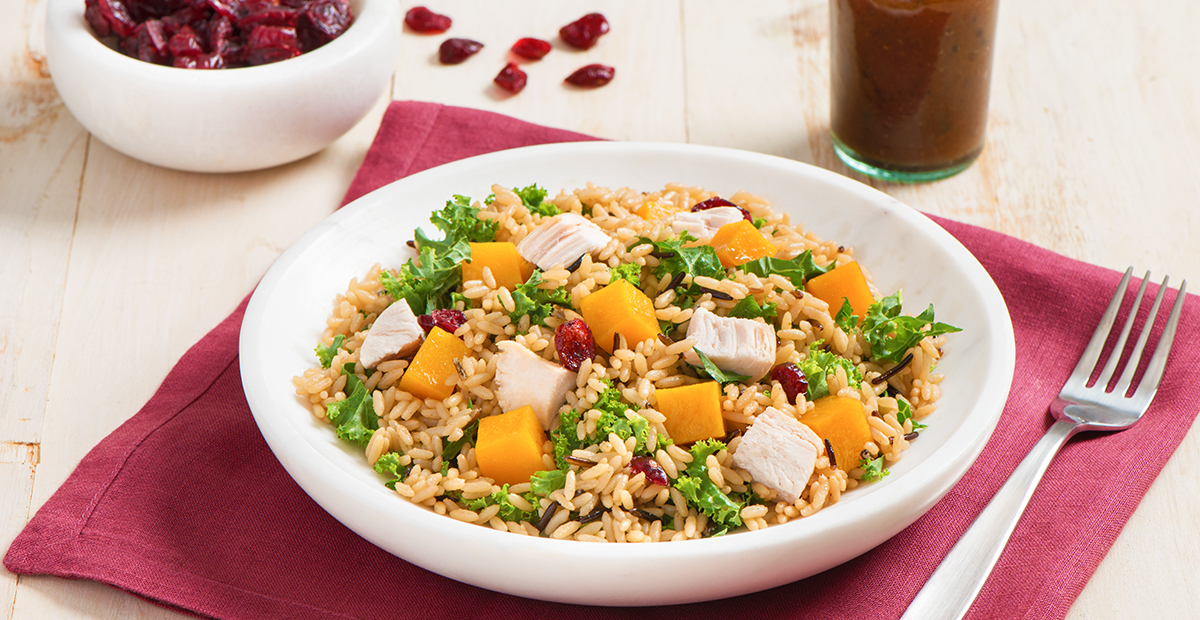 That's thanks to our Ready to Serve Rice Cups which save you time and effort while keeping the high quality of the rice in tact. Feel free to use these cups as simple substitutes to other rice products listed as ingredients in recipes.
Leftover Turkey Soup
After your main meal on Thanksgiving, you may be wondering what to do with leftover turkey? Luckily, we've got a Thanksgiving turkey recipe that answers the call, this Leftover Turkey Soup, a warm and comforting dish packed with nutritious vegetables. 
Alternatives to Turkey for Thanksgiving
But you've heard about Thanksgiving turkey all before, so let's look at some alternatives. In no time, you could be adding a flavourful twist to your Thanksgiving dinner by opting for our 10 Minute Butter Chicken recipe, a simple yet highly satisfying delight.
Fried Rice Recipes – Beef, Shrimp and Chicken
Seafood can also play a role in this much cherished time of year, especially in a shrimp fried rice recipe. Need proof? Look no further than our 25 Minute Lime Ginger Shrimp Fried Rice Recipe, a mouthwatering blend of succulent shrimp, mango, ginger, soy sauce, and a splash of lemon juice.
In the same amount of time, you can also bring some tasty beef and fresh greens into the mix with an Asian-inspired 25 Minute Beef and Broccoli Stir-Fry. Topped with mushrooms and a nice splash of soy sauce, this beef fried rice recipe is a known crowd-pleaser.
For something a little lighter, but also rich in vegetables, you may want to consider a chicken fried rice recipe such as this delicious Vegetable Chicken Stir Fry. Since this quick and easy chicken dinner is packed with vibrant and flavourful ingredients, it's also possible to remove the chicken and make it vegetarian friendly.
Thanksgiving Desserts
What's the best way to end a Thanksgiving dinner? By going out on a sweet note. By that we mean preparing an irresistible dessert that everyone will love. The great news is that there's no need to bend over backwards to make such dishes. Some of the best Thanksgiving desserts are unbelievably simple to prepare.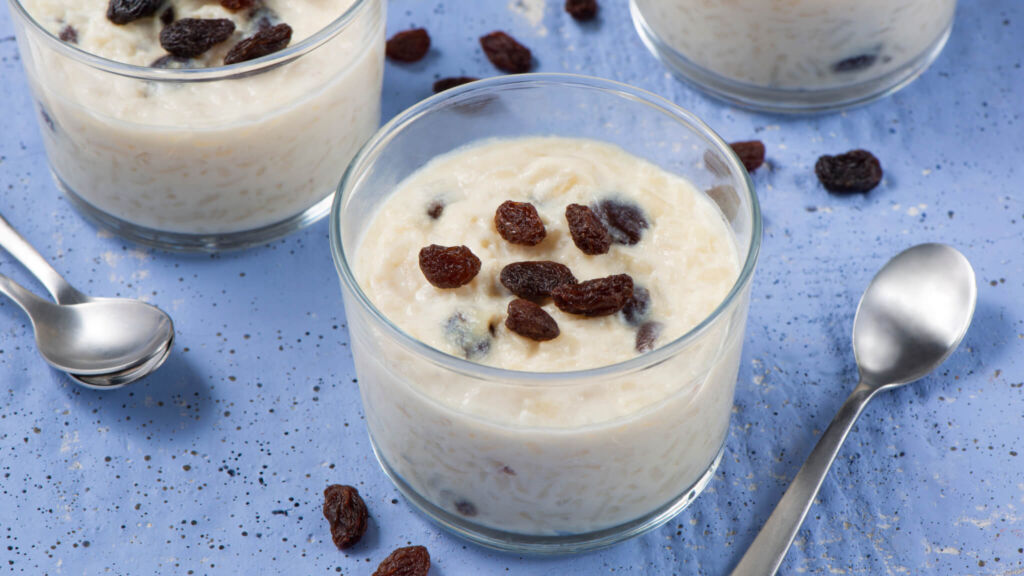 For a popular treat with a milky sweetness, a Classic Rice Pudding may be just what you're looking for. Made with rice, milk and sugar, this traditional dessert is enjoyed in many different parts of the world and its next stop could be your kitchen!
To put an elegant twist on that classic style, up the ante with a Baked Rice Pudding. In this equally tasty dessert, you can also top it off with some almonds, fresh mint and whipped topping for additional taste and style.
When it comes to desserts, some people just can't get enough of vanilla. Are you one of them? If so, a beautiful Vanilla Rice Pudding may be the perfect way to bring your Thanksgiving meal to a close. It's cool, sweet, fresh and comes with a tinge of nutmeg and cinnamon to tease your taste buds. 
Whatever you decide to prepare, the most important thing you can bring to the table this Thanksgiving is the love of spending time with your family. For meal inspiration throughout the year, stay tuned to our quick tips.