Calling all spooktacular snack seekers! It's that festive time of year and we know you're busy coming up with costumes, holiday plans for you and your loved ones, and of course, living your busy lives. Whether you're throwing a holiday party or simply cooking up a weeknight dinner during spooky season, Minute Rice® has got you covered with quick and delicious dishes. 
Stuffed Bites
Rice, bell peppers, and meat, oh my! Stuffed peppers are a classic for a reason – they're a tasty and satisfying dish, especially with the addition of Minute Rice® Instant White Rice. This dish isn't just a Halloween hit; it's good enough to haunt your taste buds all year-round.
Conjure them up following our simple and hauntingly delicious recipe. We use ground beef here, but you can easily swap out the meat for sauteed mushrooms and leafy greens, such as spinach or kale, for a vegetarian-friendly version. 
Topping and Plating Tip:
Add a dollop of sour cream or shredded cheese for a ghostly finish. 

For an extra spooky touch that won't take up much of your precious time, decorate the plate with a drizzle of sour cream in a spiderweb pattern. You can also drizzle with a green sauce, like pesto or avocado cilantro, to represent slime. Who said plating had to be fancy?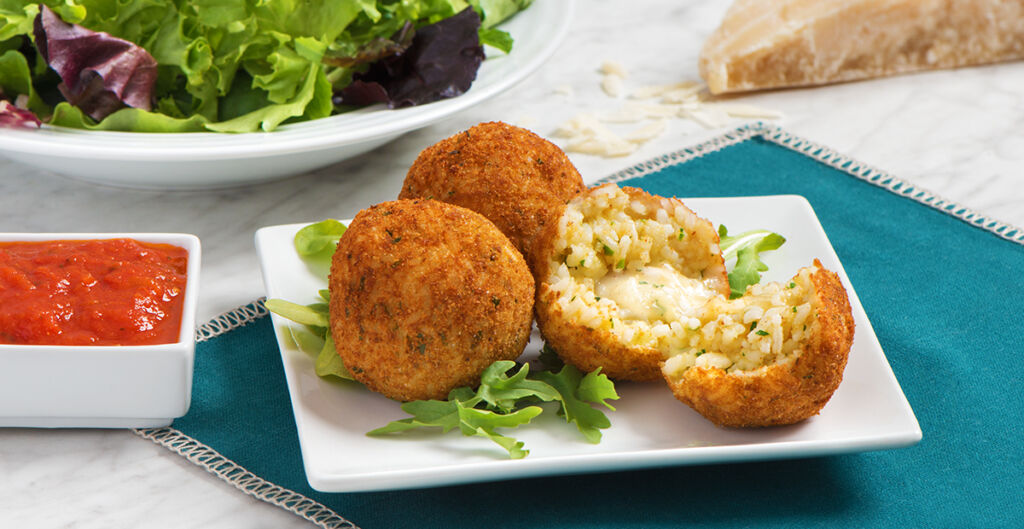 There's no shortage of stuffed bites you can create in no time. Picture this: crunchy on the outside, gooey on the inside. Our Mozzarella-Stuffed Rice Balls are melt-in-your-mouth good! Indulge in these bewitching rice balls for a perfect treat, held together with our classic Minute Rice® Ready to Serve Long Grain White Cups and bread crumbs for a spooktacular crunch. 
Can anyone resist a treat fried to perfection? Just like that, you'll have a cheesy Halloween masterpiece in under an hour! 
Optional Add-Ons:
Add a pinch of chili flakes for a fiery kick!

Serve with a side of marinara sauce for the perfect dipping experience.

To get more on theme, use black sesame seeds to create eyes and mouths. 
Creative Tricks
The sky's the limit when it comes to ways to use rice, and you can easily transform all of these dishes into spooky treats with a little imagination! Consider these tips for your next Halloween event that are oh-so-simple: 
When serving, use black tablecloths or runners. 

Scatter Halloween decorations around the table like pumpkins, cobwebs, and spiders. 

Serve your dishes with themed drinks, such as blood orange, pomegranate, or cranberry juice. Or – green mocktails, anyone? 

Use Halloween-themed dishes, utensils, and glassware if possible.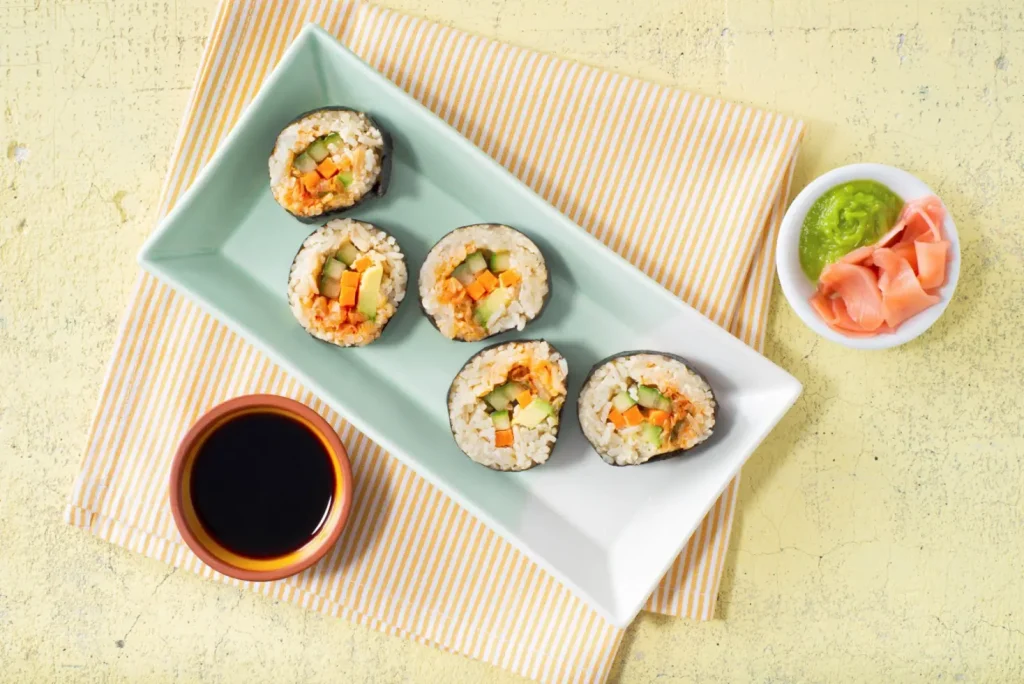 For a recipe that is as easy as it is impressive, try our take on Korean kimbap – Kimchi Vegetable Sushi. This fun dish incorporates seaweed, carrots, cucumbers, and avocados. And you can't forget about the kimchi for that extra kick, plus cream cheese for creamy goodness! 
You can always make it feel more like Halloween by swapping out the veggies for your fall favourites such as roasted pumpkin or beetroot, or garnishing with pumpkin seeds. Ready in just 10 minutes, sushi has never been so simple! 
Now, let's talk about Meatless Taco Rice Skillet – a vegetarian Tex-Mex fiesta that'll have you doing the salsa! With Minute Rice® Instant White Rice in the mix, this dish is not only easy but also hearty. We love one-pot recipes because they're no-fuss but never lacking. 
This flavour-packed meal will make you the star chef of any Halloween event (we won't tell anyone if you decide it's too good to share, though!)
Mini Meat Treats
Whip up our flavourful Korean Beef and Kimchi Lettuce Wraps in just 15 minutes for a perfect easy treat! This Asian-inspired dish uses fragrant Minute Rice® Ready to Serve Jasmine Cups, teriyaki sauce, beef sirloin, and sesame oil. It's a great addition to your fall repertoire, and you'll find that these fit any occasion, too–even a quick and satisfying breakfast. 
And last but certainly not least, we've got Easy Porcupine Meatballs. We've stepped up this classic dish with Minute Rice® Instant White Rice.
Pro tip: Add some shredded cheese for a gooey surprise in the middle. Another great one-pot recipe that's ready in less than 30 minutes!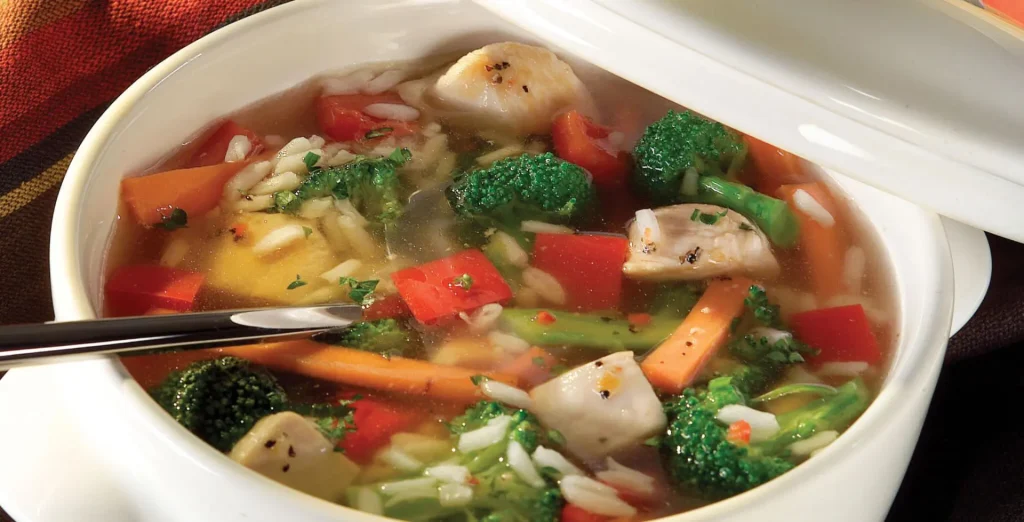 Spooky Soups 
There's no better time for warm, comforting soups than when the air is crisp and cool outside! Our Chunky Chicken Vegetable Soup is a bewitching blend of succulent chicken, wholesome Minute Rice® Instant White Rice, and a medley of freshly sliced (or conveniently frozen) vegetables. This is all enhanced with chicken broth and Italian dressing mix.
And what's Halloween without a classic? Our Broccoli Cheese and Rice Soup is a creamy cauldron of flavours. Add our Instant White Rice and you're in for a rich and velvety treat! 
The best part is that these dishes are ready in less than 20 minutes. You can make these soups that'll bewitch your taste buds and show you how effortless yet delicious your meals can be with Minute Rice®. Say goodbye to canned soups. This Halloween, it's all about homemade meals made simple! 
So there you have it, folks! A spooktacular lineup of Halloween treats that are as easy as they are mouthwatering. Grab your cauldron, or trusty kitchen pot,  and get cooking. Happy haunting and even happier cooking! 
Check out more delicious Minute Rice® recipes on our website.